The mattress is the most important piece of furniture in your home. It provides you with a place to rest and revitalize yourself. The right mattress can make all the difference when it comes to getting a great night's sleep or not. If you don't think that's true, just ask yourself how well you slept last night!
Choosing the right mattress is a matter of preference. But it's important to understand what kind of sleeper you are and what kind of mattress will be best suited for your body type.
Your mattress should offer support for your body and joints, promote good alignment and comfort.
Based on our experience serving clients to select the best mattresses, we've put together some helpful ideas for choosing the perfect mattress that can assist you in getting better sleep.
Sleeping Positions
A small 2010 research suggests sleeping on a medium-firm mattress may help relieve pain and enhance sleep quality.
On a scale of 1-10 (one being soft and ten being very firm), back sleepers will need to go for medium firmness (4-7), side sleepers medium firmness (3-5) and stomach sleepers will want extra help to avoid sinking (6-7 range).
Sleepers with less weight, or people who weigh lower than around 100 thirty kilos, will most probably opt for a medium-firm mattress firmer than somebody who weighs more.
Side Sleepers
Sleeping on your side puts pressure on your shoulders and hips, so you'll want to look for a softer mattress that cushions your body and helps relieve stress at these critical points.
The most excellent mattress for side sleepers should allow hips and shoulders to sink while still supporting the waist and spine.
Consequently, side sleepers will do well with medium-soft to medium-firm mattresses.
Stomach Sleepers
Healthcare providers generally recommend stomach sleepers swap to a sleeping position that provides more significant health advantages.
There are no "right" materials to decide on, but usually, side sleepers need a softer mattress, stomach sleepers need a firm one, and back sleepers fall somewhere in between.
Back Sleepers
For back and stomach sleepers, a mattress that's too soft or too firm may cause unnecessary strain on the spine's natural curvature.
An essential factor for stomach sleepers is providing equal weight distribution on the mattress to reduce stress.
The consensus is that memory foam mattresses offer the best level of comfort for people who sleep on their backs.
Choose Your Ideal Mattress
Type and Material
Healthcare providers traditionally encourage people with persistent backaches to sleep on firm mattresses. However, research now suggests medium-firm mattresses will be the most useful at reducing aches and offering better quality sleep.
Mattresses with extra features and designs carry a higher price tag. Nonetheless, this doesn't mean that a costlier mattress is better, which is welcome information for people on a budget.
Foam mattresses are inclined to isolate motion higher than different types of mattresses. Nevertheless, if you don't need an all-foam mattress, search for a hybrid with individually wrapped coils.
These mattresses provide a blend of bounce and contouring with low warmth retention. It might be excellent for all types of sleepers, depending on exactly their design.
Since it isn't always easy to know your best option for buying a mattress, it is advisable to seek professional advice.
How To Choose A Mattress
Memory Foam or Latex
Memory foam mattresses, the second most popular kind, offer the highest customer satisfaction. Also, it provides comfort and proper body alignment. Meaning you get a good night's sleep.
Foam mattresses are likely to hug the body additionally, whereas the buoyant coils of a spring mattress maintain an individual firmly on the mattress.
The Options mattress with its unique construction and double-sided design offers the very best of both worlds for sleepers of all shapes and sizes. Whether your normal sleep preference is soft or firm, Options elevates your experience to a new level of comfort precisely because of its 3-layer construction.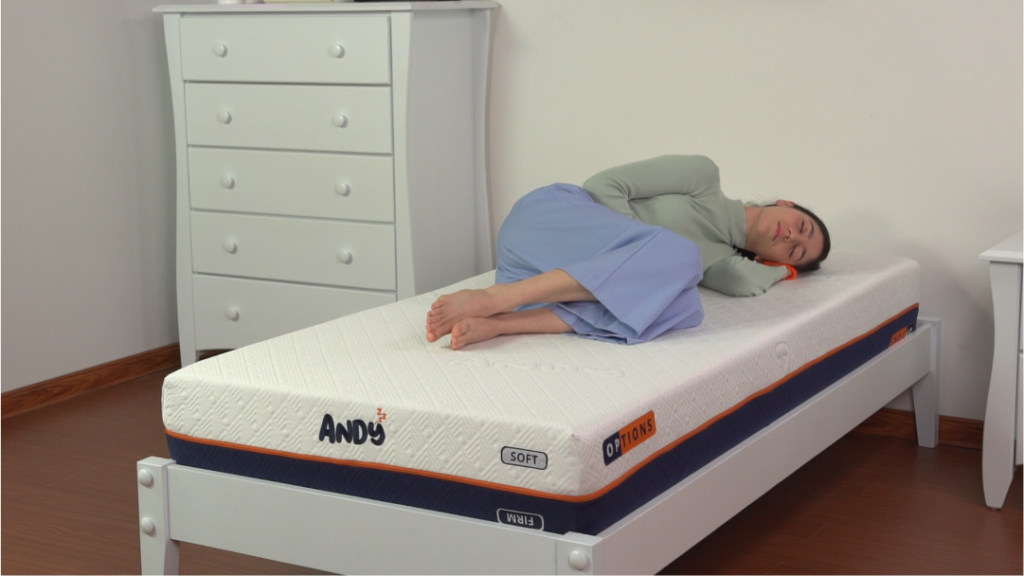 Many side sleepers discover that memory foam or pillow-top mattresses provide an ideal mix of comfort and firmness.
Hybrid
Hybrid mattresses combine memory foam or latex layers atop an innerspring mattress, usually providing a mix of softness and comfort.
Hybrid mattresses function as a coil spring base beneath layers of latex or foam.
Moreover, their improvement allows for extra airflow than mattresses made solely of foam, so hybrid mattresses usually maintain a different comfy sleeping temperature.
Latex mattresses have an identical feel to foam beds, offering a full-body contour with a touch of bounce.
Innerspring (coils)
Many innerspring mattress manufacturers design mattresses that offer more comfort.
Innerspring mattresses use coils, which frequently provide a standard bounce and comfort.
Other Important Considerations When Choosing A Mattress
Pricing
So if you're on the lookout for additional options, such as temperature regulation, or enhanced stress reduction, you might want to purchase based on the firmness of the mattress.
Hybrids often have a higher price tag since they are designed with coils and foam, but many people find their durability worth it.
There is no magic price that you need to spend, but the average price people pay for a new mattress ranges between $800 to $1500depending on their preferences.
Mattress Firmness
Although a firm mattress is beneficial for some people, you need to look for a mattress that keeps your back aligned while sleeping and relieves strain along your backbone and joints.
Mattress makers will typically label mattresses somewhere on a scale of very plush to very firm. However, how the mattress truly feels can range from model to model and even inside strains, and one person's medium could also be another's firm.
Think About the Bed
When buying a bed, you have to consider what is going to work best for you. You may be
tempted by the most luxurious bed with top of the line linens and pillows but if it doesn't fit your body type or needs, then it is not the right option. You want to make sure that you get a good night's rest every night so choosing a mattress that fits your needs is important.
While hybrids may not be the best choice for people who want very soft beds, they work well for different sleeping positions.
Hybrids additionally are likely to make extra responsive beds since they mix innerspring support with foam consolation layers.
With memory foam beds, for instance, key issues to look at embrace memory foam density, core foam density, the thickness of layers, cover and flameproof materials.
Latex mattresses have a similar feel to memory foam beds, offering a full-body contour with a hint of bounce.
Choosing the right Mattress is a very personal process and really depends on your individual sleeping preferences. We hope that you found this article helpful in figuring out what type of Mattress will work best for you.